Dear Fellow Coach,
As a coach, your job is to bring the best out in the athletes you work with. Whether you're trying to make them faster, improve their strength, or make them more injury-proof, you combine your coaching expertise with the right tools to get the job done.
But depending on your situation, the "right tools" may not always be an option.
Outfitting a facility with lines of racks and platforms requires an investment of tens of thousands of dollars.
Having a line of kettlebells to accommodate a group 25 athletes, all with different strength levels, is not only expensive but also cumbersome.
Carrying around a collection of bumper plates, bars, or 'bells in the back of your car isn't an option if you travel to train.
So what if I told you that a single tool had the ability to:
Build usable, real-world strength and power
Supercharge your athletes' mobility and flexibility while eliminating nagging injuries
Dramatically improve speed and explosiveness
And this tool was:
Inexpensive: You can train an entire team with under $400 worth of equipment
Portable: You can transport your entire gym in a duffel bag
Versatile: With virtually no limit to the uses for this too, you'll have no shortage or variety, progressions or regressions
By now, you're probably on to the fact that I'm talking about one of the most popular training tools on the planet today: the Resistance Band.
Compared to virtually all other training tools, resistance bands are incredibly inexpensive, are conveniently portable, and are versatile enough to improve almost every aspect of your athletes' performance.
It's really no wonder that they've become the tool of choice for thousands of coaches around the globe who want to get the most out of their athletes.
With this growing popularity, there's a rising demand for trainers and coaches to become educated and skilled on how to safely and effectively implement resistance bands with young athletes. However, to date there has never been a course specifically designed to empower coaches to use resistance bands with those young athletes.
Announcing The IYCA Resistance Band Instructor Course
We've enlisted the top Resistance Band Training Expert in the World to teach you exactly what you need to know to master the fundamentals of training young athletes with bands.
Dave Schmitz PT, CSCS, PES, YCS
An IYCA Board of Experts member, Dave has become known as "The Band Man" due to his relentless study and use of bands to improve the performance of the athletes he's coached, enhance the results of the clients he's trained, and accelerate the recovery of the patients he's worked with as a Physical Therapist.
During this time, he's probably worked with resistance bands more than any other professional on the planet, and through volumes of research and his own trial and error, he's developed the premier resistance band training "system" available today.
Dave is the founder of the premier resistance band education and equipment company in the industry today, Resistance Band Training, and was also recently named one of the 100 Most influential People in Heath and Fitness alongside other experts like Dr. Oz, Dr. Stephen Covey, and First Lady Michelle Obama.
Along with being the industry's leading speaker and expert on resistance band training, Dave continues to regularly train young athletes and holds an annual athletic development summer camp serving hundreds of athletes and donates all of the proceeds to the local high school' athletic department.
In this comprehensive IYCA Resistance Band Training Instructor Course, you'll learn:
The fundamentals of training with bands so you can dramatically accelerate your athletes results
Dozens of powerful band exercises so you can fine tune your athletes training approach and movement skills no matter if you're training athletes 1 on 1 or entire teams
A complete toolbox full of beginner, intermediate and advanced exercises that will empower you to design programs that will deliver maximum results in a minimum time for ALL of your athletes.
The difference between training with bands versus just using bands
How to safely integrate bands into your program design regardless what tools you presently use
A complete understanding of how to set up bands to support any program design you use and not force you to reinvent the wheel
How to choose the best band for your training goals and setting
The secrets to create band training progressions and regressions instantly without having to change bands
How to avoid the hundreds of mistakes that coaches make when using bands
How bands compare to free weights and why they are no longer an "alternative" but a "necessity" to getting better
A detailed, thorough and clear instructional approach to utilizing bands including templates and done-for-you guides and programs to make implementation easier
The IYCA Resistance Band Instructor Course Isn't Just Theory; It's Practical, Hands-On Information That You Will Be Applying to Make Your Athletes Better Immediately
Listen to what these coaches had to say:
"The Band Man Is Simply An Infection Burst Of Energy And Passion That All Fitness Professionals Need In Their Lives"
"He's also world-class at coaching, motivating and programming. If you want to have the rare chance of learning from someone who is the best in the world at what they do, Dave is your man. He is the real deal when it comes to everything you'll ever need to know about resistance band training. He eats is, sleeps it, and breathes it. It's a level of authenticity rarely seen in any industry, especially fitness."
BJ Gaddour - Owner, StreamFit
Dave's Resistance Band Training Certification Literally Changed My Life!"
"When I went through it, had just left my very high paying personal training management career to start my own business. I had been following Dave for several months and knew I wanted to use his resistance bands as the staple tool in my training programs.
However, even with over a decade of professional training experience, my use of bands had been limited. because of my educational background, the biomechanics of resistance band training (the way Dave teaches it) just made so much sense to me. I was compelled to take my knowledge to the next level.
That's when Dave offered his first Resistance Band Training Certification. I immediately signed up and my training business has never been better!
Dave Schmitz truly is "The Band Man." There is simply nobody in the fitness industry that understands or teaches resistance band training better than him. I feel truly fortunate to have discovered Dave when I did."
Justin Yule, Owner - Fitness Revolution Chanhassen
"It's Not The Bands… It's The Man Behind The Bands"
"Dave, I've been using your resistance bands for the past three years in my corporate and community bootcamps and personal training sessions. First, let me tell you how much I appreciate the quality and durability of your bands. I've tried others and they don't even come close to your product.
My trainers work with athletes and non-athletes of various ages and physical abilities. Every group we train uses your bands for either strength, speed or balance training. From a business owner, it's great to have one tool that can accomplish so much. Whether you're a trainer, athlete or fitness enthusiast, I highly recommend your reactive resistance band training system. It truly does get powerful results!"
Greg Justice, Owner - AYC Health & Fitness, Creator - Corporate Boot Camp System
"No One Knows Bands Like "The Band Man""
"If I was forced to recommend one training tool to athletes or fitness enthusiasts it would be a resistance band – period. No tool is as affordable or versatile as a band. And as far as bands go, no one on the planet know more about them than "The Band Man" Dave Schmitz."
Dave Jack, Director - TeamWorks Fitness
What's Included in The IYCA Resistance Band Instructor Course?
4 Power Packed DVDs Covering Everything You Need To Know About Resistance Band Training For Young Athletes
You'll be receiving 4 Comprehensive Training DVDs that will teach you the mechanics of effective training and programming with bands for young athletes. Together with your IYCA Resistance Band Instructor Course Manual, you will have the most comprehensive band training educational resource ever created specifically for coaching young athletes…and a distinct competitive advantage over your competition.
Here's just a sample of what you'll discover in the Resistance Band Instructor Course 4 DVD Set…
Resistance Band Training For Young Athletes Manual
A 139 page manual outlining the scientific foundations and practical aspects of implementing resistance bands into training programs
A complete library of band training exercises so you can build optimal programs for any training goal
Includes athlete-specific training templates to help you implement your program quickly and efficiently
Online Exam To Receive Your Highly Respected IYCA RBI Credential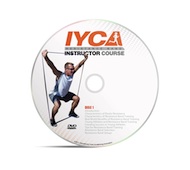 Complete the exam from the comfort of your own home or office
Instant Results – no waiting!
Available 24/7 – instant access when it's most convenient for YOU!
Frame Worthy Resistance Band Instructor Certificate
Resistance Band Training Is Becoming Part of the Revolution in Youth Sports Performance Training…
…And this is your key to learning how to unleash the massive power of these tools & guarantee untapped improvements to your young athletes!
Today Only $149.95
Sincerely,
Julie Hatfield
IYCA Executive Director
PS Created by the most successful and well-known Resistance Band Expert in the world, this Instructor Course will give you incredible insight on exactly how to teach and progress your young athletes through a specific, developmentally-sound training system.
PPS Only $149.95 for the most in-depth and practical Youth-Athlete-Specific Band Training Instructor Course ever created!
PPPS An ironclad 365-Day Money-Back Guarantee ensures that this is a 100% Risk-Free opportunity for you. Don't delay!
Today Only $149.95